It's been clear to everyone where the journey is headed since the parent company was rebranded from Marc Zuckerberg's Facebook to "Meta Platforms" (Meta for short). The goal is to enter the worlds of metaverses.
The race to participate in the Metaverse has been going on for a long time and for purely digital companies like Facebook and sisters under the Meta umbrella like Instagram, WhatsApp and Co. It is necessary to be in a leading position.
And in order to be able to earn money in the Metaverse, you need a suitable means of payment. Of course, this means of payment should also be digital. The user community will not accept anything else.
The metaverse will also make it possible for more people to see the world without having to travel. And we're building new technology like Horizon Workroom to help remote employees feel more connected to their team.

– Meta (@meta) January 28, 2022
Already in 2019, Mark Zuckerberg announced the development of his own digital payment method, the stablecoin Diem or Libra.
After a number of setbacks and problems, notably with regards to implementing regulators, the project was abandoned at the beginning of 2022. All previous developments as well as intellectual property and Diem stablecoin rights were sold by Meta to cryptocurrency bank Silvergate.
Diem died, Diem live? Silvergate is taking over the project
But what is actually metaverse?
The term "Metaverse" comes from the 1992 science fiction novel "Snow Crash" by Neil Stephenson. The novel describes the virtual world as a successor to the Internet, in which people act as avatars in a three-dimensional virtual space.
Simply put, the Metaverse is a vision of a shared online world, merging the virtual world with augmented reality, cyberspace, and the physical world. In this shared digital space, there are no boundaries between the virtual and the real, everything fuses together.
Users of the metaverse create a digital identity (avatar) and thus navigate a shared virtual world. It is also traded, bought and sold in this world.
For example, Metaverse artist avatars create digital artwork that is also sold there. Payment is made in cryptocurrencies, which can eventually be converted into real money.
Digital artwork can also be transferred to the real world through printing or 3D printing, and thanks to a digital signature using NFT, it can also be accompanied by a Certificate of Authenticity, making it usable for collectors and investors.
You can now use your 3D avatar across Quest, Facebook, Instagram, and Messenger. We're also adding new face shapes, skin tone, hearing aids, and wheelchairs. And if you are a fan of the NFL, you can match your avatar with new T-shirts for #Shawky! 🏈https://t.co/Oje1mxtjrK pic.twitter.com/pRLVI99alV

– Meta (@meta) Jan 31 2022
Many IT experts, analysts, and technology companies see an important future market in the metaverse. Just like Mark Zuckerberg, who wants to get into the Metaverse with all his companies in the Meta group.
What is a stablecoin?
The term stablecoin means "stable coin" in German, so it becomes clear what stablecoins are supposed to be. Stablecoins are digital currencies that are tied to the value of a specific asset outside the crypto world. These assets can be fiat currencies such as US dollars, Euros or others, or commodities and precious metals such as gold, diamonds or the like.
One of the biggest drawbacks of cryptocurrencies is the strong fluctuations in their value, which makes smooth trading within the cryptocurrency difficult. To compensate for this drawback, stablecoins were created.
If the value of a cryptocurrency is related to the value of, among other things, the US dollar or the price of gold, then the value of that cryptocurrency will fluctuate only in the range in which the value or price of the US dollar is. Gold fluctuates. This facilitates trade between the virtual and the real world.
What are NFTs?
The term "NFT" in relation to Metaverse and Web3 content continues to circulate in the digital world. NFT stands for "non-fungible token" in German "non-fungible tokens".
Such a token is proof of ownership in the digital world of cryptocurrencies and blockchain networks. So, the NFT is an irreplaceable proof of ownership in the crypto world, a title deed or a certificate of authenticity, so to speak.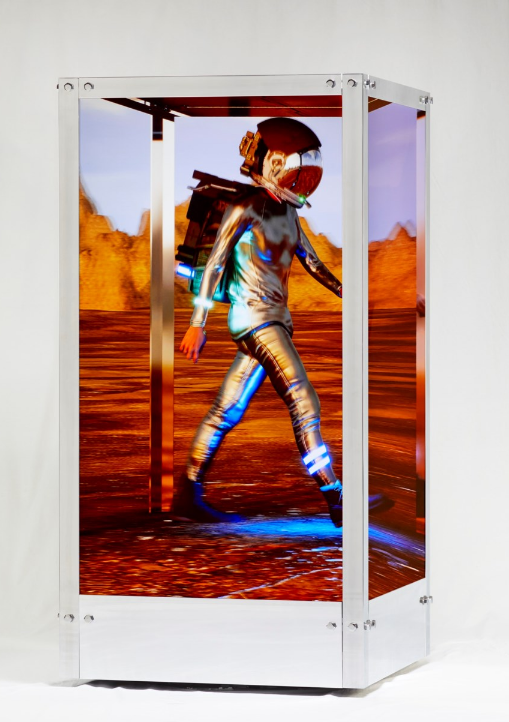 This clear evidence of ownership is important to trade in the virtual world of the Metaverse. Without it, digital products can simply be copied and thus duplicated, making these digital items unattractive to retailers.
No art collector will pay anything for a digital artwork if it can be copied indefinitely. 'Exclusivity' and ownership must be clearly claimed, and only then can action be taken.
Your identification code.
A separate token is still required to trade in the Metaverse from Meta. But after the problems of the stablecoin DEM, it is likely that an easier way will be taken to start.
As we can hear from meta development circles, the least regulated path to proprietary code is being sought. This could be a way without its own blockchain network behind the new Meta token.
Conclusion regarding Meta token plans.
Sometimes speed is more important than perfection. Meta is now planning the minimal effort route for its first token to save time. After the Diem Stablecoin project had not made much progress for more than two years, Mark Zuckerberg pulled the ripcord, discontinued the project and sold it at the beginning of 2022.
However, this does not change the basic plan of wanting to launch your own digital currency for trading and payments in the meta-metaverse. Now the easiest and fastest way is being searched. It is very likely that this will be found and walked quickly.
I can imagine that in the background work is being done on further stages of expansion and extensions of this "coin". Eventually, a full-fledged cryptocurrency may be created in the form of a stablecoin based on its own blockchain.
But now is the time to waste no more time and take the next step on your way to your metaverse, so that money can be made there too.
Facebook meets the hate of Metaverse users