Message from 04/20/2020
Around World Book Day on April 23, libraries, publishers, schools and reading enthusiasts across Germany are gearing up for the Great Reading Festival. On this occasion, a new book from the series "I'll give you a story" has been released every year since 1997. This year is already the twenty-sixth time.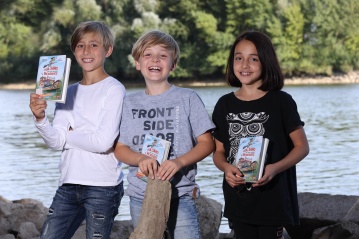 Bad Honnef. In Bad Honnef, the GGS Am Reichenberg School and Theodor Weinz School are participating in a book voucher campaign for World Book Day. About 115 schoolchildren enjoy the graphic novel "Iva, Samo und derheime Hexensee" by Bettina Obrecht and illustrator Timo Grobing. This was published by the Reading Foundation in collaboration with cbj Verlag, Deutsche Post and partners.
Book vouchers for students to encourage them to read
Age-appropriate reading materials are distributed to fourth and fifth graders in the form of book vouchers. Regular pickup at local libraries will be flexible and individually adapted to local epidemic conditions. Werber bookstore (Hauptstrasse 40) and bookstore Aegidienberg (Aegidienplatz 12) also participate in the campaign. About a million children across the country will be able to receive the book.
The aim of the collaboration is to inspire children to read with interesting stories and to strengthen their reading skills. In addition, children who do not speak German well or do not like to read, must be taught to learn the pleasure of reading and a contribution must be made to inclusion. For this purpose, the text of the novel has been supplemented with comics by the illustrator Timo Grubing, which is well suited for use in integration, support and welcome classes. State Education Ministers are sponsored by the "I'll Give You a Story" campaign.
In addition, the company supports the promotion of reading through its so-called language and reading sponsors, of whom 300 are colleagues who work on a volunteer basis at the Deutsche Post alone. Books are also distributed on various occasions. Among them are several bestsellers, such as "The Last Sentence" by Robert Seethaler, "Fox Girl" by Maria Grund or "The Weight of Words" by Pascal Mercier.
Reading is an integral part of society
"Strengthening reading and language skills is essential, as they are the key to education, inclusion and social engagement. Taking social responsibility by teaching these skills is part of our corporate culture, because that is how we want to connect people and improve their lives," says Thomas Ogilvy, Director of Resources Human Collective, he is also a board member of the Reading Foundation.
For the first time, the book was produced from completely recyclable materials suitable for the biological cycle. For the cradle-to-cradle principle, materials that are harmless to both the environment and people are used. The paper in the book is from sustainable forests. The printing inks are biodegradable and contain no harmful substances. In this way, new products can be created from recycled paper fibres so that all the components eventually flow into the biological cycle.
In 1995, the UNESCO General Conference declared April 23 to be "World Book and Copyright Day". The history goes back to a tradition in Catalonia: roses and books are presented there on the day of the name of the patron saint of Saint George. April 23 is also the anniversary of the deaths of William Shakespeare and Miguel de Cervantes. World Book Day is now celebrated in more than 100 countries in Germany since 1996. The Reading Foundation and its partners have played a major role in shaping World Book Day from the beginning. For example, the "I'll give you a story" campaign has been running since 1997. (Evening)
---