Singer-songwriter Renee Krause (34) from Forsheim, better known as DerEnte, wants to publish a multimedia book for children through his online fundraising: "The Little Satellite" – as a gift for his young son.

He makes his own music, makes original instruments, and programmes a video game set in Forsheim, and is now planning his first multi-media book for children. Renee Krause (34) aka DerEnte wants to bring out "The Little Satellite" with the help of his fans. The crowdfunding campaign begins on Thursday, April 21st. Then his son Leo celebrates his first birthday. It should also be his gift.
DerEnte is a musician through and through. There should be very few moments when he does not have one of his household items close at hand. Even when he and his wife Melanie stared at the clear starry sky three years ago on their communal roof terrace, he didn't put the harp aside. Instead, he improvised on strings and wrote lyrics for them. "Fortunately, she let her smartphone work with her."
So the song was saved by a small satellite patiently rotating in its orbits, also above the market square in Forsheim. But who would like to see something else before they run their course and burn out. How a funny star named Paul helps him is not revealed here.
A children's song has its own charm
The song from the satellite has nothing to do with Blümchen's hit, nor with the title of Eurovision Song Contest winner Lena Mayer-Landrut. It is a children's song that has its own charm. "She played it for my niece, who was seven at the time. She thought she was cool."
This is what the title of a funded book should look like.
© Photo: Udo Goldener
DerEnte has never done anything like this before. Apart from the cover version of Heinz Rühmann's song "Lalelu, Only the Man on the Moon Watches". Even the very early poems of Renee Krause, which were to be published as a volume but did not come out of the tray, do not count either.
The idea to write a children's book of the song came to Renee Krause during the hour-long drive to the Chinese Consulate in Munich. "I still need entry papers for a vacation." As is so often the case in his career, he was struck by a flash of inspiration that has been put into practice ever since.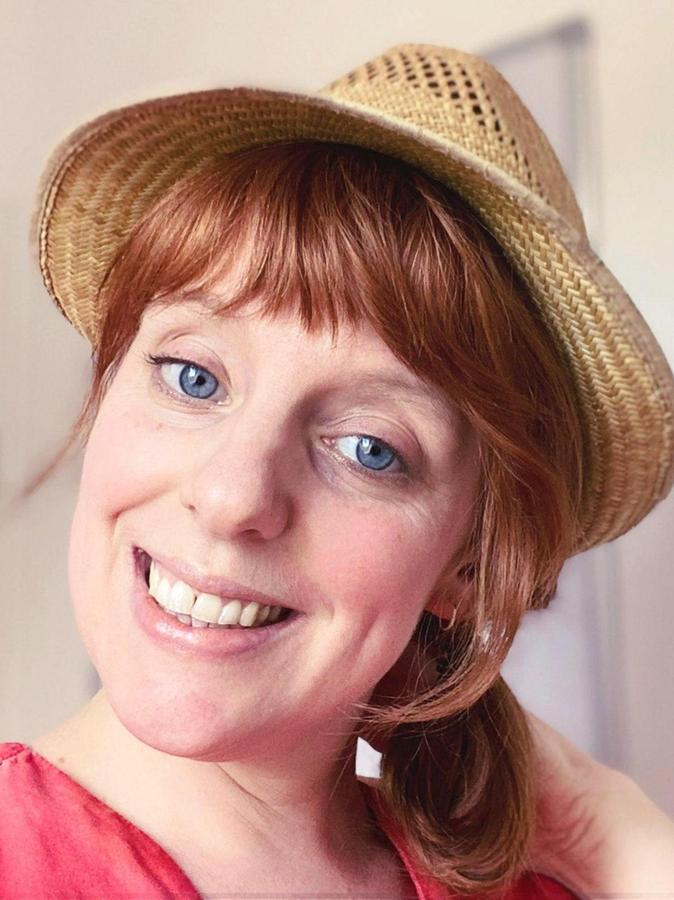 Catherine Rudel developed the illustration with Krause.
© Photo: Udo Goldener
When it came to finding an illustrator for a book project, Renee Krause thought of a friend. Independent artist Katherine Rudel from Nuremberg, which she loves is "really colourful". "I can't draw myself and I think what you're doing is really cool." Together, they developed a graphic story that follows and transcends the song's lyrics.
duck like firefly
This is how fireflies appear. If you look closely, you will not only see one of the light figures with duck boots, a small beard and a harp, which looks confusingly like DerEnte. Even wife Melanie and son Leo are sitting in the corner.
Attention to detail can only be noticed upon closer examination. Astronomical images can be seen in the background. "It was prepared by a colleague from the University Hospital in Erlangen."
amazing pictures
This refers to Stefan Schick of Sternfreunde Franken, who monitors the infinite universe all over the world to take amazing pictures. There is also a double page where aspiring ukulele players can learn the strings so they can play "The Little Satellite" themselves.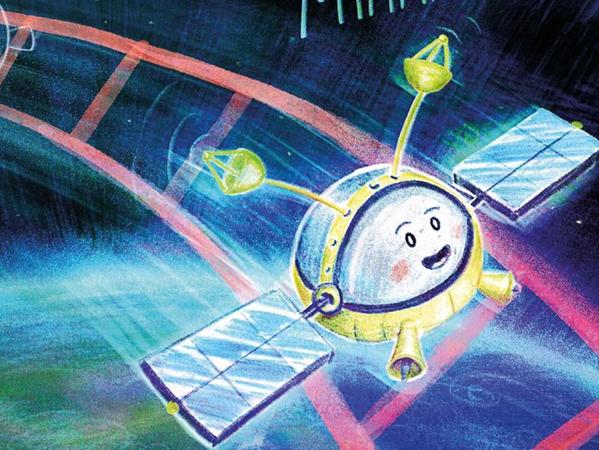 The little satellite still wants to see something of the world before it reaches the end of its life and burns out.
© Photo: Udo Goldener
And those young readers who want to learn something besides all the fun can still discover what satellites are doing when they're not out on adventures. "I thought of a book that grows with your child and that you can pick up over and over again."
Through a crowdfunding campaign, René Kraus wants to turn digital data into a tangible book. "My target by the end of June is 5,000 euros. Then the work will start." If you participate, you will get something in return depending on your efforts.
On his first birthday
A book with a song, a digital reading or a digital encounter with DerEnte and its illustrator. Those who dig deep into their pockets can secure their own concert in the living room.
Incidentally, Thursday, April 21st, was carefully chosen as the start of the campaign. Then his son Leo celebrates his first birthday. When he is a little older, he can watch and read the "Little Satellite" by himself.
More about the crowdfunding campaign at: https://www.startnext.com/der-kleine-satellite