It's been about a month since FAZ warned of a big bubble in the NFT market. According to Michael Ivry, Asia Pacific expert at Rabobank, the industry is facing "bubble stupidity". The non-fungible token, which can be shortened to NFT, is comparable to buying a lottery ticket. Wealth can hardly be built sustainably with this, also because the bubble will "definitely" burst.
Buy NFT Token: Outliers Create Exclamation Points in Bear Market
Cryptocurrencies, which according to FAZ are especially attractive to young people, have confirmed the prediction at least in the past few days. The value of all major NFT coins fell sharply during the week. TETHA prices are down about 16%, Tezos are down about a third of their original price, and exotic coins like Wilder World (WILD) are down about 40% on the annual chart. If you take into account the market capitalization of digital currencies, billions are expected to be lost.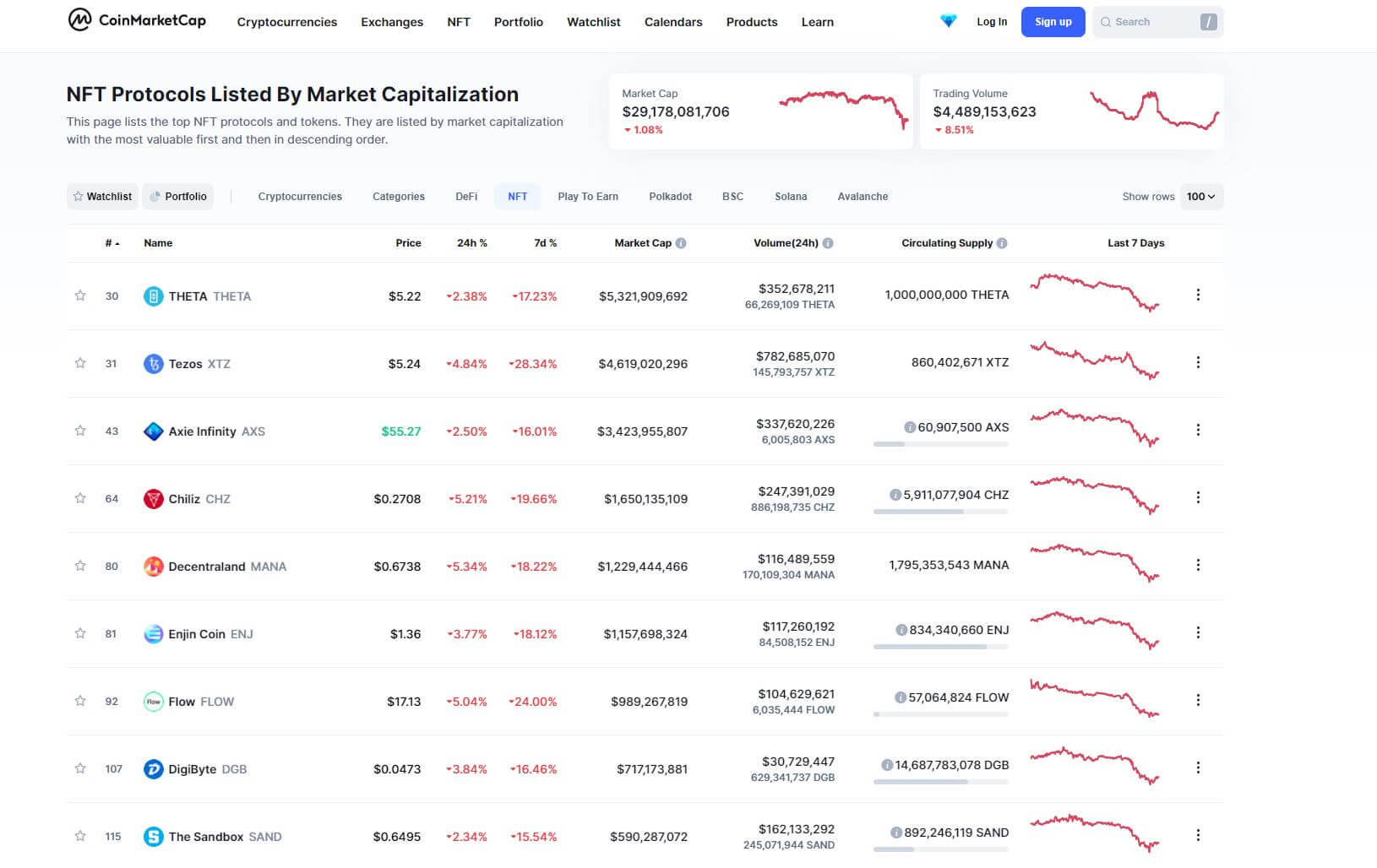 In light of the bloodbath, all kinds of investors must be wondering if they should still buy NFT Art. In the following analysis, we would like to take a closer look at this high-risk investment product. The large outliers in the market for non-fungible tokens show that there are still many opportunities in the industry. Ecomi (OMI) stock has nearly halved over the past week. GALA provided an example with the price doubling (crypto scene reported) and Lukso coins (+12.52%) and WEMIX (+60.57%) also bucking the industry trend.
What is NFT?
But how do you recognize NFTs with potential? To get to the end of this question, a little basic knowledge is required. Non-fungible tokens serve as digital goods as a kind of certificate confirming the authenticity and ownership of the goods. The blockchain contains this information, and it is transparent for all to see. All transactions, i.e. purchases and sales of digital artwork, are recorded in this way.
Since the numbered object is associated with only one symbol, it is unique in each case. It may be visually or token-based repeatable, but at the cryptographic level, it retains an identity and cannot be copied blindly. The asset is installed in the blockchain. This is the characteristic that attracts collectors in the NFT art market. According to OpenSea, the world's largest trading platform for digital NFT artwork, NFT traded with a total value of $1.9 billion in August alone. Those who wish to purchase NFT art can now do so in a variety of fields. Sports, art, and media benefit from new technology.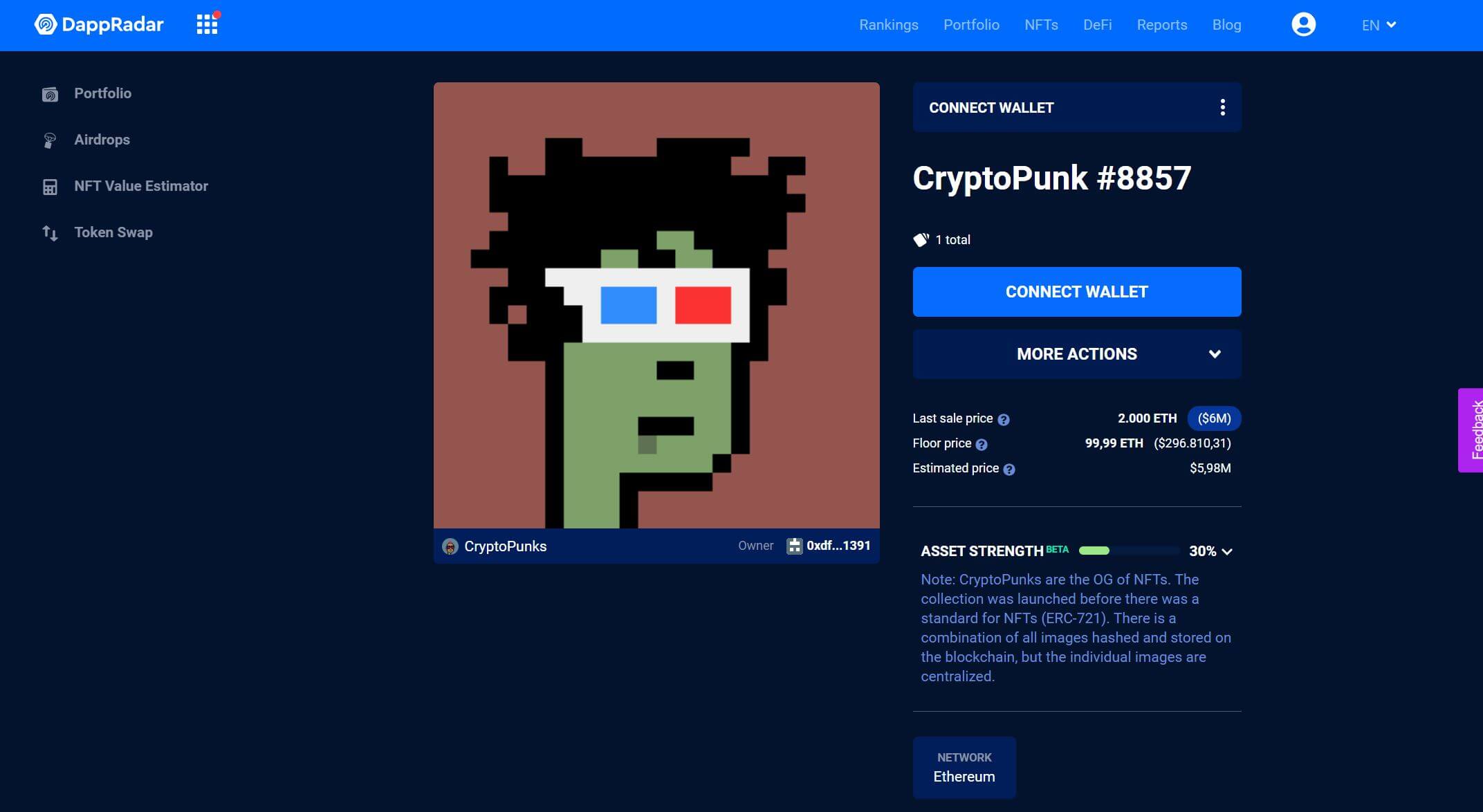 Some artworks are traded very actively. Do you want an example? A cartoon image of a monkey was recently sold for 39 ether. The seller made a profit of about $60,000 on this transaction, after all he bought the artwork just two weeks ago for "only" 22.5 ETH.
Another type of NFT that reaches a value in the millions in a very short time. DeFi app analytics platform DappRadar has reported an astounding 65 NFT artworks that have been altered by more than $1 million in the past 30 days. A month before that, sales of only 32 NFTs were worth millions. CryptoPunk #8857 is currently in the top position with a value of around $6.64 or 2,000 ETH expressed in Ether.
What is an NFT token?
What are non-fungible tokens? Now, NFT Art cannot be equated with the NFT symbol. After all, cryptocurrency in and of itself is not a work of art, but serves much more as an infrastructure for markets in images, media, or other digital goods. So how does the price of NFT come about? The principle of supply and demand applies here. Often these are private projects or up-and-coming startups that are launching their own cryptocurrency so that they can use it for their own company.
If you are new to Gala Games because you learned about it jala dollar From binanceCheck out the next game that's coming out! # Thoughts pic.twitter.com/EjKNodyTdn

– Gala Games (GoGalaGames) September 13, 2021
Let's stay with GALA of course beyond the mentioned NFT. The token was issued by Gala Games, a company that has been involved in gaming since 2019 and already boasts a community of around 1.3 million active monthly users thanks to exciting content. Gala Games claims to have already sold 26,000 NFTs. This is the content of the games themselves, which are part of the virtual world of users. The most expensive GALA NFT is said to be worth $3 Million US Dollars.
This example should show that the price of an NFT has nothing to do with the value of an individual artwork. However, the increased demand for the cryptocurrency usually leads to higher prices for the NFT type as well as higher prices for the token. It should not be forgotten that investors have a hand in the game as well. It is up to the investor to decide whether they act as collectors in order to buy digital art cheap and sell it at a higher price, or whether they simply act as cryptocurrency traders. There are undoubtedly risks in both areas.
Conclusion: Buy NFT Art Now?
We have shown that digital artworks are not directly related to the price of their cryptocurrencies. However, due to the well-known market principle of supply and demand, there are of course obvious implications when certain coins are able to trend.
While the price of NFT tokens is set on the exchange, NFT Art can be purchased from alternative markets that specialize in digital art. Auctions often take place in this context.
Investors should keep in mind that there are always risks involved. Those who bought their non-fungible artwork at a high price and then couldn't get rid of it face losses. Of course, the same goes for every collector, whether it's stamps or rare whiskey. With these well-established collector items, a more stable market can be identified.
As the NFT market is currently demonstrating, regular crypto traders are frequently threatened by severe cutbacks. The total loss of the system can also be visualized if the crypto development team goes bankrupt. However, the industry shakes up from time to time and always recovers with phases of solid earnings. Investors should already consider this before selling NFT tokens in a hurry.