So far, everyone who talks about the Internet means sites. Now you're talking about an experiment," says Matthew Henick, Metaverse developer at Epic Games. In addition to virtual reality, the focus is increasingly on augmented or expanded reality. Epic Games has a proper 3D environment with Unreal Engine. For decades, it provided the basis for video games in particular. Metaverse differs from video games in that it lacks the intent of playing, is always online, and provides users with an environment in which they can go out, create or attend events. And it's about business, because just about everything from the floor to the clothes to concert tickets is sold as NFT.
It all started with CryptoKitties. The ERC721 standard was first used to sell individual collectibles in the form of digital kittens that could be crossed to breed and sell more kittens. Since then, trading in NFTs has exploded into billions. Larva Labs launched the CryptoPunks trial in 2018 with 10,000 unique pixelated faces that Larva Labs offered free to any Ethereum wallet user who was willing to pay transaction fees. Christie's sold nine CryptoPunks for nearly $17 million in May 2021. Since then, Larva Labs has inspired many imitators.
All the major movie studios want to use the NFT idea for themselves. There are NFT sets for Spider-Man, Batman, Star Wars, Matrix Resurrections, SpongeBob, The Simpsons, and The Masked Singer. Since then, the crypto community has been trying to "encode" what seems like everything, for example selling movie posters as NFTs that also serve as movie tickets.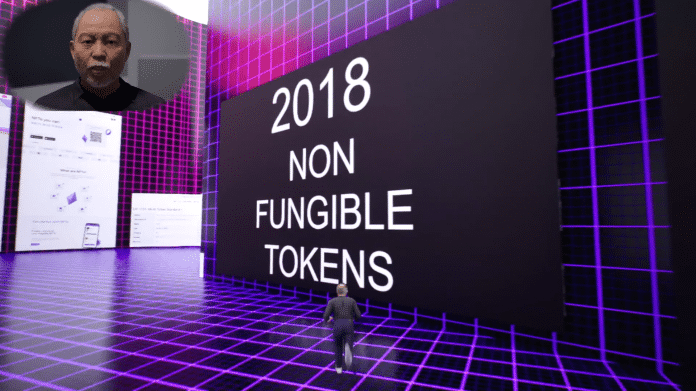 In addition to virtual reality, more and more metaverse applications are emerging that implement augmented reality with smartphones. Mapstar is the name of an AR app, developed by Mapstar AG from Karlsruhe. Users should be able to "easily" scan a portion of the real environment using a smartphone app and add virtual items for visitors in the Mapstar Editor.
Apple and Meta are rumored to be planning AR products. Great expectations are attached to this, similar to the introduction of the iPod. But products can also ship like Google Glass once. "It is important that you take your existing Metaverse communities with you and provide interactive experiences from the start," said Raffaella Camera, Unreal Engine Brand Manager at Epic Games.
Blockchain horse racing
From visual influences Chris Ebeling came to blockchain gaming, for which he has been building a user community with Virtually Human Studios since 2019. His game "Zed Run" is similar to crypto-cats, but also has tamagotchi characteristics. In Zed, you buy, raise and sell racehorses – each animal represented by NFT. Players can combine the characteristics of their horses by crossing them with other players' animals.
Zed AR is available for Android and iOS. Horses should be part of the real world via augmented reality. Shown in the camera image on the smartphone, your racing horse can now be placed on the beach or on the kitchen table. Pioneers like Chris Ebeling are hoping for augmented reality glasses that combine the real world and the real world.
The game works on the principle of "play to win": players must spend as much time as possible in the game while potentially selling their best horse in the stable at a high price. Axie Infinity showed how this can work. In the Philippines, a community that earns money through the blockchain game has been formed.
To date, Zed Run has about 60,000 users. Problem: New players have to overcome relatively significant hurdles by creating a MetaMask wallet, buying their first racehorse and registering it as an NFT on the Ethereum blockchain (called minten). The developer is trying to make it easier to get started with YouTube explainer videos. Zed HQ is located in Decentraland. Interested parties can meet on the Metaverse, listen to developer-appointed DJs, and purchase Stella digital beer.
It won't be like Ready Player One
The decentralized virtual world Decentraland is the focus of many investors. From the start, the founders delivered over $24 million worth of virtual real estate in a single day — starting at 0.08 Ether, at the current exchange rate of around €180.
Brand manufacturers want to inspire users with the digital variants of their products in the metaverse. Sportswear manufacturer Adidas now sells its apparel very profitably as NFTs. If you want to sell shoes, you also have to attract customers to the brand. Digital bank branches and stores do not yet make metaverses. Mark Curtis of management consulting firm Accenture Interactive compares the Metaverse to the gaming approach of a home trainer, which only displays a very simply 2D rendered image of a racetrack, but creates excitement by interacting and measuring yourself with other users. People care about people: there is no exciting app without interaction.
Many Metaverse questions remain unanswered. There are no notaries who monitor the clean exchange of land parcels – after all, millions are often at stake. Standards are not available. APIs, eg to connect to existing store systems, are not yet available. The Metaverse is as fragmented as the usual videotape market. "It's not going to be like Ready Player One," Curtis says. Because the industry does not yet have an answer to the cross-platform curriculum question, even though influential thought leaders are assuming exactly this. Companies operating on the Metaverse are competing rather than cooperating.
Curtis sees another 20 years to go to virtual Earth before these standards are ready. Until then, pioneers like Adidas, who have invested heavily, may run out of momentum, also because the Metaverse may not develop in the desired direction.
At FMX 2022, the artists talked about their work in this year's blockbuster films. William Scheffler spoke about character design in the Pixar animated film Root, and other visual effects directors spoke about their work on literary adaptations such as Dune, the Apple + Foundation Series, or the Shakespeare style adaptation of Macbeth. Anders Langlands of Studio Weta, who did the effects on Lord of the Rings, spoke about the visual effects in The Batman. Framestore employees have shared insights into their work on Spiderman: No Way Home. The film recreates all the Spider-Man villains of the past 20 years. Also in the Marvel program were the movie "Shang-Chi and the Legend of the Ten Rings" and the WandaVision series, Loki and Hawkeye.
The international visual effects scene met in Stuttgart for the first time since 2019. This time the conference was held in a mixed format. Therefore, all lectures on animation, visual effects and game design are available broadcast on fmx.de until May 31 – for a fee: tickets cost 80 euros, for students 40 euros.
conclusion
Fortnite, Roblox, World of Warcraft and other community-led games attract hundreds of millions of players; The NFT marketplace makes billions of digital art. Metaverse aims to bring together players and money. It won't replace the internet as we know it, but it will complement it, as Fortnite already provides a platform for those who care about it.
If the Metaverse turns out to be a one-way path to another world, the developers believe that it will not work. Therefore, they rely on AR applications such as the horse racing game Zed. The metaverse is designed to interact with both the existing web and the real world.
Is Apple's M1 really faster than current AMD and Intel chips? We measured! At c't 12/2022 we also explain how you can free yourself from dependence on foreign symbols. We tested smart door locks, compact laptops, and USB docks for SATA drives, and were amazed at the pixel graphics on older consoles. We also show how poorly generated RSA keys can be hacked using a 380 year old method.

(acre)