climate

Low crops, sweating animals, lack of milk: this is how heat affects agriculture
The current heat wave is not just a problem for many people. Plants and animals also suffer from high temperatures and less rainfall.
Switzerland is sweating. Those who can follow the shade these days, escape to higher altitudes or cool off in the water in between. On the other hand, in agriculture, escaping from the heat is not so easy. While some cultures benefit from warm temperatures, others suffer greatly. Heat also stresses cows, pigs, and chickens. Key answers about the effect of heat on agricultural production.
How does heat affect plants?
This depends a lot on the plant in question. While grains and corn tolerate heat relatively well and a loss in quality is most expected, some crops such as potatoes have to struggle more with higher temperatures. As a result, they stop growing. According to the Swiss Farmers' Association (SBV), most plants "do not have much of a problem as long as temperatures are not above 30 degrees for a long time". However, the water supply also plays a major role. Where irrigation is not possible, the Federal Office of Agriculture on Demand said, the extremely high temperatures combined with little rain are a problem for plant growth. Barbara Walshley of the Vocational Training Center for Nature and Nutrition (BBZN) in Hohenrien agrees: "Typically farmers sow again after the grain is harvested. But since it's so dry right now, it doesn't make sense."
How do animals deal with heat?
Many animals react to warm temperatures with so-called heat stress, says BBZN's Raphael Elbisser: "In the case of cattle, this is shown, for example, by cows standing close to each other and looking for shaded places. They also eat less which reduces milk production. Pigs and chickens don't like heat either. They cannot sweat and therefore are very sensitive.
Because, like cattle, pigs, and chickens, they also lose their performance when temperatures are too high, "it is in the interest of private farms to create comfortable housing conditions," says Albisser. These include adequate water points, shaded areas, barn air circulation, water sprinkler systems and adjustment of grazing times. "In this heat, it makes sense to let the cattle go out to graze overnight or early in the morning," Albisser says.
It's hot, is it dry at the same time?
According to meteorologists, there is currently a so-called "medium drought" in Switzerland. According to forecasts by Meteo Schweiz and the Institute for Forest, Snow and Landscape Research, severe droughts can be expected across Switzerland until the beginning of August. Levels of many lakes and streams are already low. Depending on the region, water can only be drawn to a limited extent.
Should farmers irrigate their fields now?
Again, this depends on the type of culture. Vegetable farmers in particular cannot avoid irrigating their fields at the moment to make up for the lack of rainfall. They have only two options: either they water their fields or they have to give up harvesting altogether.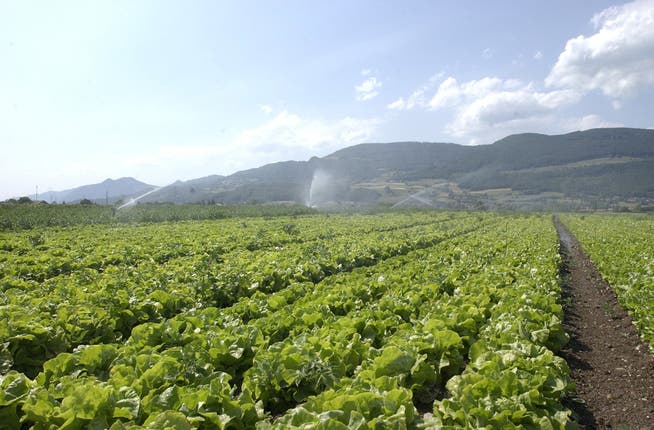 Will the crop be smaller due to the current heat wave?
Right now, it's more like the other way around, says BBZN's Barbara Wälchli: "We've had a good year so far, at least as there's been no cold." Fruit growers are especially pleased with this: everything currently points to a promising harvest of core fruits, among other things. On the other hand, if drought persists, a smaller harvest can be expected as water-intensive crops such as lettuce or tomatoes cannot be irrigated. So says Wälchli: "The rain in the next few days will benefit nature."
Can a farmer insure himself against weather-related crop failure?
In principle, farmers are independent entrepreneurs and therefore bear most of the risks associated with farming themselves. However, it is possible to obtain harvest insurance on a private basis. According to the Farmers Association, this covers frost and drought damage. Companies have to bear the costs of this entirely themselves. The situation is different when farms suffer "huge losses in profitability". The federal government can then grant so-called liquidity aid.