payment methods

Better cards and apps from Nötli: the love for money is cooling off
There is a little jolting in Swiss wallets: "coins" and banknotes are becoming less important. The main means of payment are debit and credit cards. Twint will follow soon.
During the Corona pandemic, it has become clear that money is on the decline – a trend that will continue. This is illustrated by a representative payment method study published by Moneyland.ch on Tuesday. Accordingly, the number of Swiss who could not do without cash at all shrank from 34 to 30 percent last year. For 67 percent, Moons and Nutley are indispensable to some or all of them.
In brick-and-mortar retail, 96 percent said they pay with cash. But only one in three do it several times a week or more. In contrast, 54 percent more often use a debit card in stores. "Debit cards are now used more in Switzerland than cash," Moneyland Managing Director Benjamin Mannes was quoted as saying. For many Swiss, Kartli has always been the 'first choice'.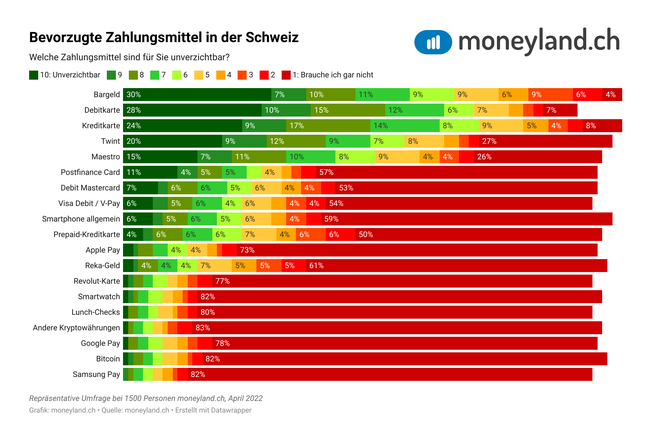 According to the online comparison service, debit and credit cards are the most important means of payment in Switzerland. For 71 percent of those surveyed, they are somewhat or completely indispensable. 28 percent consider debit cards to be completely indispensable. With a credit card it's a little lower at 24 percent. Companies have already responded to changing payment behavior: in some cases, they have restricted the acceptance of cash and increased the acceptance of other means of payment.
Everyone orders via account, but most often they pay by card
Credit cards have the upper hand on the Internet. 84 percent of Swiss buy at least once in a while. With credit cards it is "only" 80 percent. But 13 percent use a credit card online at least several times a week. This is followed by Twint cards and debit cards at 8 percent — and only then the bill at 7 percent, as they're also called. "Even if almost everyone orders via account, the Swiss still pay more with credit cards or Twint," Munz says.
However, online debit cards are likely to grow in the future. Because the new cards are also suitable for online use. Every second person already uses a debit card on the Internet – an amazing amount. Because: "Many customers from many large banks have not yet received cards that can be used online – this shows that the Swiss in general are very happy to pay with their debit cards," sums up Ralph Beller of Moneyland.
(Almost) everyone loves Tweet
Twint is still on the rise. Moneyland.ch describes the app as a "big winner" last year. More than half of the population now wants to dispense with the Twint or not at all (56 percent). According to Manns, it is now the "third most important means of payment" for the population.
According to this, 64 percent pay in stores that have the app, and online it is 56 percent. However, the comparison service talks about an "occasional means of payment". Only 17 percent use Twint in stores – a low value compared to other payment methods.
The app is especially popular among the younger generations: 82 percent of 18-25-year-olds use Twint to pay in stores, and 75 percent use it online. On the other hand, 50-74 year olds never use this payment option.
The Swiss pay contactlessly
Contactless payment methods have also increased. They have become the standard, especially during the pandemic – also because payments up to 80 or 100 francs are now possible without entering the pin code. 67 percent of the population make contactless payments with their credit cards. There are also "much more" debit cards than last year.
In addition, 74 percent use at least one contactless payment method via cell phone or app—particularly 18-49 year olds. On the other hand, smartwatches are neglected by the population: less than 10 percent use them to pay for their goods. Cryptocurrencies are never used as a means of payment.
Moneyland.ch interviewed 1,500 people between the ages of 18 and 74 from German and French-speaking Switzerland for the study. The survey was conducted online by market research institute Ipsos in April.