The Children's Forest in northwest Hanover offers all children, youth and their families the opportunity to experience nature up close, freeing their creativity and developing their personality. The 7 hectare space has been an eventful and impressive place for every child for over 20 years.
What is the idea of ​​the children's forest in Hanover?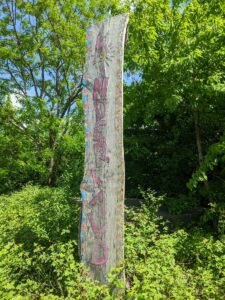 After a holiday card campaign by Unmada children's songwriter Manfred Kindel in 1996, the idea of ​​an adventure forest for children and young adults emerged. The large space in the Nordhafen district of the city has been used since 2000 to bring children and young adults closer to nature in a very special way. The children were involved in the planning of the forest from the very beginning, because the concept of the site was also developed with them. In this way, they were able to contribute their desires and ideas about the jungle of adventures. The main objective of the concept is to enable all children to gain experiences in and with nature and to express that the environment is worth protecting. At the same time, the adventure forest provides the opportunity to express one's dreams and desires and live out one's creativity. The forest aims to enhance social skills and identity formation. In nature, young people and children learn responsibility for themselves, others and the environment. Adventure Forest is open to all children – the main target group is from 4 to 14 years old.
What does Adventure Forest offer?
In the past 22 years, 1,500 new shrubs and trees have already been planted in the Hannover Children's Forest – many different play areas have also been established. The educational concept of the place is subject to further development and continuous change. There is close cooperation with various day care centers, schools and other institutions. In addition, the forest is always open for parents and children to celebrate children's birthday here. If you wish, you can reserve additional workshop content for celebrations – then a teaching staff will also be available as a moderator. Children and young adults can experiment with nature, building, art, planning and gardening under various campaigns and shows.
What offers are available for children and youth?
Various workshops are available in the adventure forest to experience nature. These include nature workshops, nature workshops, and field workshops.
Nature workshops:
Forest explorers: Here children use magnifying glasses and other equipment to explore small creatures and plants
Get creative with natural materials: Participants make things like dream catchers or picture frames from different natural materials
Jungle makes music: In this musical nature workshop, people sing and try percussion instruments
Clear the stage: here the forest of adventure becomes a stage and children become the main actors
Nature workshops:
In these workshops, children and young people experience the forest up close and learn to understand it. Cognitive and motor skills are also enhanced. Another focus is on strengthening the team and the social skills of the participants. This happens, among other things, through discovery, craftsmanship, research and experimentation. In the end, new impressions and experiences come together. Natural sciences workshop topics are individually adapted to the respective group of participants and level of knowledge.
Field workshops:
In particular, teamwork is encouraged and children's sense of responsibility is enhanced. You work with different tools such as saws, spades, and axes. Children receive information about plants and animals throughout the year.
In addition to the workshops, there are also many family shows such as musical jungle walks, festivals of lights or pasture building and nature activities. Various projects such as "Fairytales in the Forest of Children" bring a lot of variety. At the week-long summer camp, kids can experience nature. Multi-day holiday packages are offered by Children's Forest or by FerienCard from the Hannover Youth Center. These wonderful offers for children can be perfectly combined with a family holiday in a holiday home in Hanover. Festivals and concerts are held again and again in the adventure forest.
Image sources:
Hannover Children's Forest: www.hannover-discoveren.de