In August, sales in the global NFT market fell below the $1 billion mark again. The decrease in the number of buyers had a negative impact on the average retail value of digital collectibles.
Between July 2021 and May 2022, the global NFT market total sales reached a new milestone. This is due to the huge profits that collectors have made from selling and airdropping digital art via airdrops.
Unfortunately, like all areas of the cryptocurrency financial industry, NFTs have been hit hard by the bearish market trends since late March.
As a result, NFT global market revenue fell below $1 billion for the third consecutive month in August. According to CryptoSlam data, the industry only generated a total revenue of $726.78 million.
Higher NFT groups also see fewer buyers
Much of the dwindling sales can be attributed to the huge drop in the numbers of buyers as well as the average sales value of the top 10 NFT of total sales volume..
For example, Axie Infinity, the top NFT by sales volume, raised about $5.7 million from 44,558 buyers.
Digital monkey photo collection, Bored Ape Yacht Club (BAYC), attracted interest of 263 buyers and generated $58 million in total sales, outstripping even the project's CryptoPunks.
103 users bought CryptoPunks and made $25 million in profit. Mutant Ape Yacht Club (MAYC) remained under $50 million for the fourth consecutive month with revenue of $25.8 million and 744 buyers. Otherdeed, of the Otherside Metaverse, eventually attracted interest from just 1,934 buyers and made $22 million in August. After record monthly sales of $943 million in May, the project can no longer be scaled up.
So far, Dapper Labs' NBA Top Shot has consistently brought massive liquidity to the global NFT market. However, in August, the total sales of the digital art group fell below $15 million. This indicates a significant decrease in the number of buyers, which brings the average purchase price down to $16.64.
The latest numbers don't compare to the $848 million in sales recorded by Axie Infinity in August 2021. These numbers don't compare to the $298 million and $679 million that were acquired by BAYC and CryptoPunks during the same period last year. NFTs Monkey MAYC and NBA Top Shots generated significantly higher sales during the period at $277 million and $37 million, respectively.
Sales drop to an annual low worldwide
Many market analysts see the $726 million drop in revenue as an indication that the NFT industry is losing ground in the financial cryptocurrency world. However, that number represents an increase of $79.5 million (12%) over July.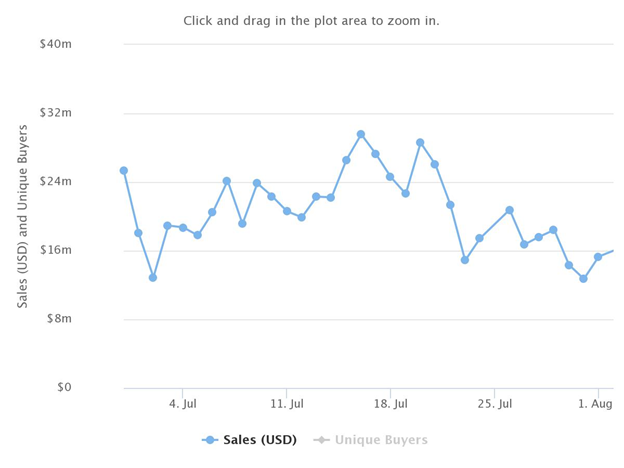 A total of 613,021 buyers through 4.57 million transactions spent an average of $1,075.01 on Bored Apes, Mutant Apes, CryptoPunks, Axie Infinity NFTs, Azuki, CloneX, NBA Top Shots, and more.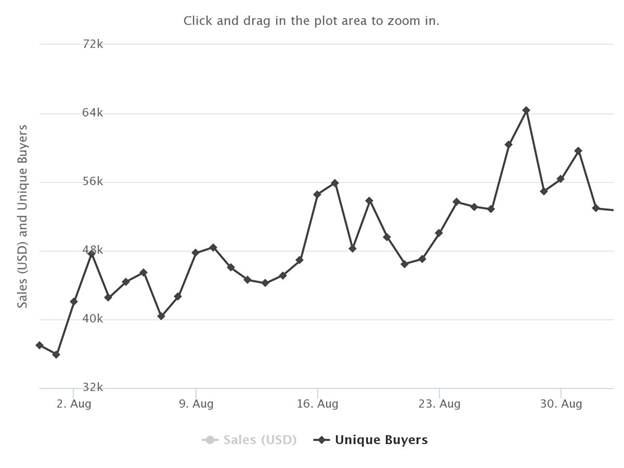 495,666 buyers and average selling value of $132.33 in August 2022 represent a decrease of 19% and 87%, respectively, from the staggeringly high numbers the previous year.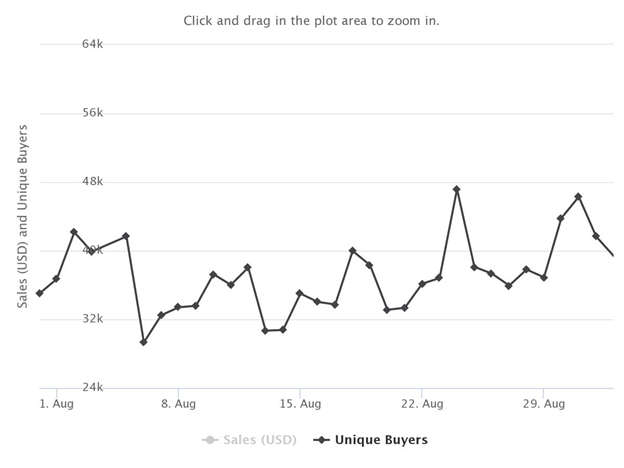 NFT market volume continues to decline
NFT market volume hit a new low in August with revenue of $613.41 million. OpenSea, the largest market by volume, scored nearly $501 million in volume.
Even rival platform Magic Eden received just $66.31 million. The negative market sentiment for digital collectibles is particularly evident in the current statistics. This market sentiment has resulted in NFT rigs generating less than $1 billion in total volume over the past three months (June-August).
In January, NFT markets reached a new record high of $5.63 billion.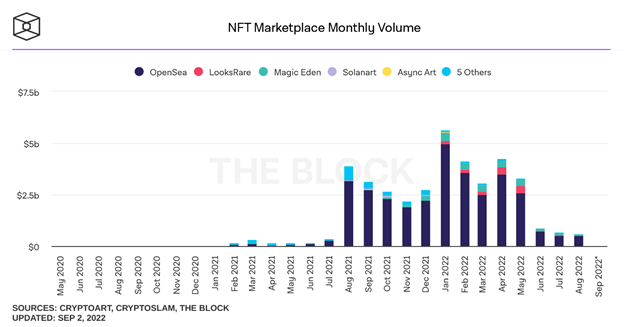 disclaimer
All information on our website has been researched to the best of our knowledge and belief. Press contributions are for general information purposes only. Any action the reader takes based on the information on our website is entirely at his or her own risk.